Have you ever had to choose cabinets for a new build, or a kitchen remodel, but didn't know where to start? We reached out to our friends at Marquis Fine Cabinetry to get the scoop on what goes into choosing the best cabinets for your home.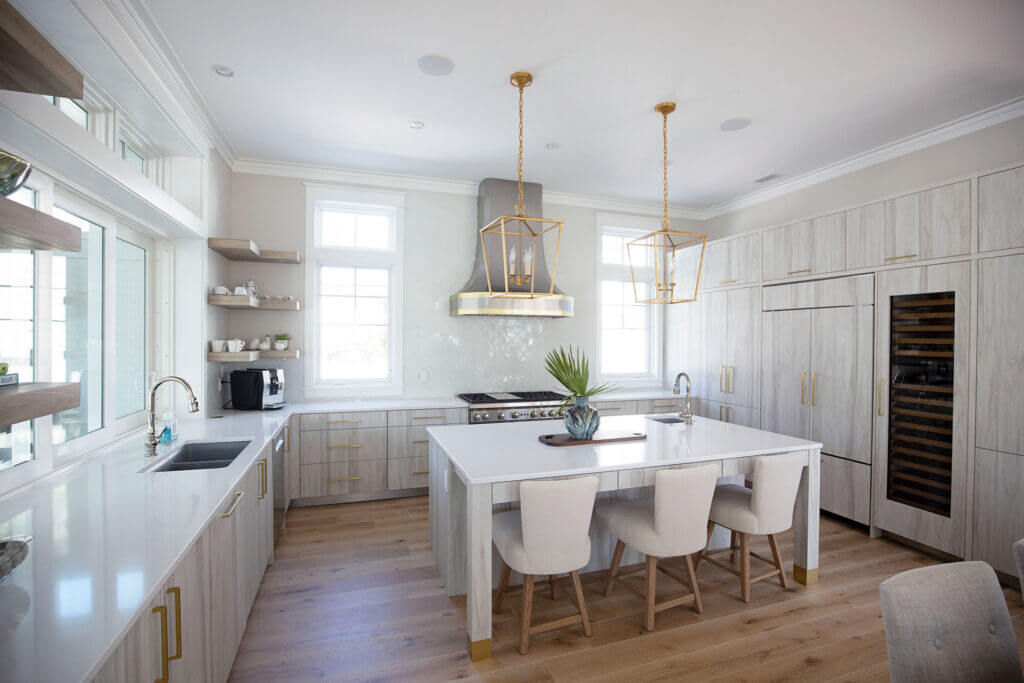 "Our project managers (designers) ask a lot of questions to fully understand the use, function and lifestyle of the homeowners", says Paris Wilson, a representative for Marquis Fine Cabinetry. "Since we are a fully custom cabinetry manufacturer, the options are unlimited so it really helps to understand the client's wants and needs are."
Let's rundown the list of questions a MFC rep will go over with you.
Use: Full Time Residence or Vacation Rental?
a. Vacation Rental – What's important here is durability. "It is very likely that the cabinetry will get damaged a lot quicker than they would in a residential home, just due to the amount of traffic going in and out," Wilson said. The Milano Collection is recommended here, due to the durability. The material is a lot more resistant to scuffs and scratches, and is very desirable for rentals. This collection is also water-resistant, which is great when we live 10 minutes from the beach. It comes in several different finishes so the design options are unlimited. You can go ultra-modern or still have a very chic coastal beach house.
b. Full Time Residence – Another great choice is Marquis' Classico Collection. Classico is the traditional shaker-style cabinetry line. This is great for those who want a very classic look that is also custom to their design direction. This line is ultra-customizable too as several profiles are available.
Function: What do they need out of their kitchen cabinetry?
a. Storage – There are unlimited options when it comes to storage and making the most out of your cabinet space. If it's a remodel, MFC's project manager, Erik Kobielnik, has a trained eye on how to reorganize a kitchen to make the most sense. By rearranging appliances and adding in custom pullout and inserts, Kobielnik was able to increase storage for this remodel. If you have a new construction project you're working on, Sean Moore is a talented project manager that will design a beautiful custom kitchen for that space that is one-of-a-kind. Moore was able to suggest using Pecky Cypress as a finish for this beautiful new home as the homeowner wanted to showcase her family heirloom, chest cupboard. Since this homeowner didn't want an island, Moore took advantage of the butler's pantry and designed the whole space with pantry pullouts for easy and accessible storage.
b. Countertop Space – The majority of complaints during remodels are that they wish they had more countertop space. In order to do this, often times plumbing and electricity will have to be moved. Kobielnik has created more countertop space is several remodels by rearranging the flow of the kitchen so that is makes more sense, which in turn also creates more countertop space. A great example is shown here, which features the before and after photos.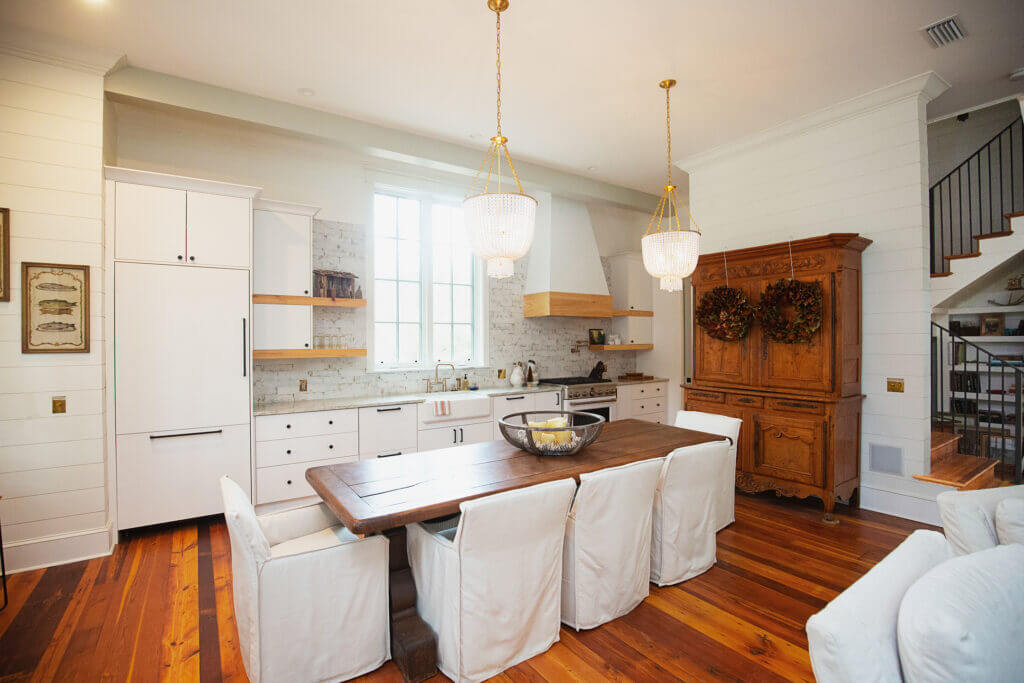 Lifestyle
This is so important to understand as it goes hand-in-hand with the functionality of the kitchen space too. If the client entertains a lot, that'll change compared to a homeowner who loves to cook all the time. It is important to work with a company and a project manager who understands these differences and can suggest different design concepts based on the lifestyle of the homeowner. We have noticed the increase of kitchen designs with large islands. The reason? People really want more seating space to cook with their loved ones and have their kids be able to join in. Due to COVID, many families were quarantined inside and had to be creative. If that wasn't the case, at-home entertaining became more popular while restaurants were closed. Since most people gather in the kitchen, a larger island allows for more countertop space allowing extra space between entertaining and where the food was being prepared.
It's also important to note that you're not limited on colors or profiles with Marquis Fine Cabinetry. They can match any pantone color of your liking to create the perfect blend for your kitchen. From there, it is then mixed at our plant with a hard, custom, UV varnish in order to increase the lifespan of your cabinetry.
We hope that helps understand the thought process behind how to choose cabinetry, and how it ties into the rest of the design that an Interior Designer like Bontemps Interiors in Santa Rosa Beach will choose.